I TRIED to give the Cabinets away for 3 weeks. Listed here, on AudioKarma and I even posted them in DC CL for $20 (a bit less than what I paid for the wheels and the 5-way connector/cups I put on the bottom) on the logic that people will buy cheap while they shun "free". I was even prepared to let potential CL buyers "haggle me down" to $5 or $10, but the only response I got was some would be scammer from out of state (What part of Local pickup did he miss in the ad??).
No one was interested so after 3 weeks I quit pimping them!
And rather than curb these boxes, I decided to use them as woofer boxes to build something new around.
I had recently won some Fostex Studio Monitor drivers and horns, so, I got some plywood, cut it to 18 x 7 inches to make "planks" to put inside the cabinet and cover the 32 horn holes, slapped some minwax stain on it, put some construction goop around the edges to seal it to the baffleboard, and covered the holes.
I know the JBL 2214H drivers fits the hole and plays well in that cabinet - so I'll need to make a panel to cover the original crossover/control hole on the baffle, and to hold the controls for mid and tweeter levels on the crossovers I am building for this 3 way project.
ITS PROBABLY SAFE TO CLOSE THIS THREAD NOW -
Attachment: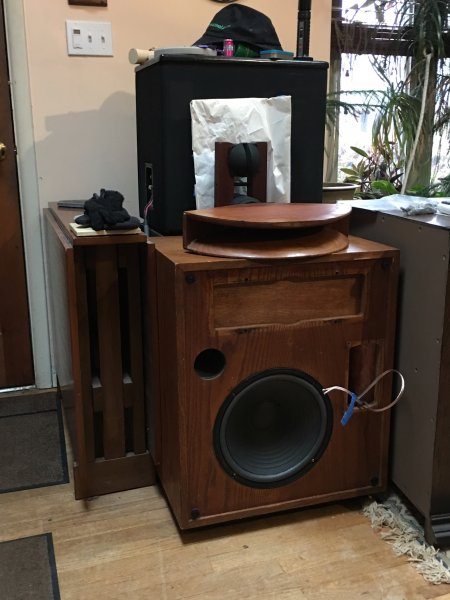 Fostex-Project-woofered_6056.jpg [ 49.73 KiB | Viewed 10802 times ]