More on the pink vs. white noise issue, after a few cups of coffee....actually several gallons since that last post.
This approaches a topic of great interest to me and like many things is not that straightforward: Is flat what we want?
The idea of using pink noise is that constant power per octave is "how our ears hear," power per octave linear on a logarhythic scale. Since power density/oct declines with frequency, 1/f, pink noise exhibits a 3db/octave dropoff. In other words, the octave gets a lot wider as frequency increases, so the spectral power density is lessened.
Well, that's cool and what is interesting in this to me is how such a dropoff approximates the natural falloff of HF in a sizeable hall. Bruel and Kjaer and Roy Allison among others have published landmark papers on this topic.
I noticed that the response of a WE728B 12" with no tweeter sounded very close to what I was hearing at Kennedy Center concerts 15 minutes earlier. Then I took my RTA to a few shows and saw graphically what I was hearing. Serious HF rollage. Very little 10k.
This raises the issue of accounting for differences between hall sound and living room sound, right? With less distance and dispersion, the natural rolloff is far less. To get hall sound in you r home, you would need some wicked rolloff.
OK, lets consider that pink noise is rolled at 3db/octave or 10db/decade.
If you EQ for flat response using an RTA and C-weighted pink noise, per the convention, at the listening position, you are beefing up the highs from the speaker.
If you use white noise with a constant power vs. unit frequency distribution, there are more highs in the test signal so the required HF EQ is less drastic, less highs out of the speaker.
It seems to me that what is required is to use white noise and EQ for the desired rolloff in order to achieve a natural hall EQ.
White noise is what is typically used for spec analyzers, whether old fashioned roll chart type or modern FFT jobs, both of which look at a swept frequency one at a time, so to speak.
Old school RTAs like the 15 pound huge antique B&K that I used in the 80s had a bank of LC bandpass filters. I don't know how something like a phone app RTA actually samples, probably discrete frequency sweeps then some kind of mathematical integration to approximate an octave bandpass function. That B&K had an accompanying oscillator box that output C weighted pink noise.
I suppose we have to trust the RTA app writers to have worked this out.
However, when putting these tools to use, it is helpful to understand the assumptions and structure of the test relative to goals. RTA is supposed to approximate the ear listening in real space as well as "real time." White noise is a constant "instrumentation" test signal and is basically equivalent to an omni-frequency "sweep"
Neither approach takes into account the effect of the room on EQ. This is something that we have to do ourselves.
The combination of close micing in the recording process as opposed to ambient stereo mic techniques and flat equalization, moreso with RTA techniques, and super-extended tweeters creates a situation with way more high frequency than live music, the reproduction of which is
supposedly
the goal. Or is it? The standard approaches seem like a recipe for in-your-face sound.
So I actually do use my RTA with white noise input and all of my stuff will likely have rolloffs before 10k. I use the RTA to see where it starts and to ensure that my HF and LF are at the same level at crossover. I left my Clio rig in Korea and I don't bother hooking up a mic and REW or whatever. I use my phone under the conditions described.
Still RTA is a standard measurement and if you want to do it by the book, pink noise is employed....but it is useful to understand what is going on with this test.
Yet another test that may be "controlled" but is crucially different from messy reality in important ways, just as all tests are. That why they are called "tests."
Anyway, here's a sweep of a 32 and 802 combo that I found somewhere online. Forget where, maybe Earl Geddes or Zilch. This EQ looks good to me for a natural "hall" sound, if one can deprogram the modern hifi listening habit and get into it for what it is.
I suspect this is exactly the sort of response that Bell Labs scientists were looking for when they developed the WE32A. Looks a lot like the response of a WE 728B, in fact. and a lot like what you will see if you tote your RTA down to the Kennedy Center
Attachment: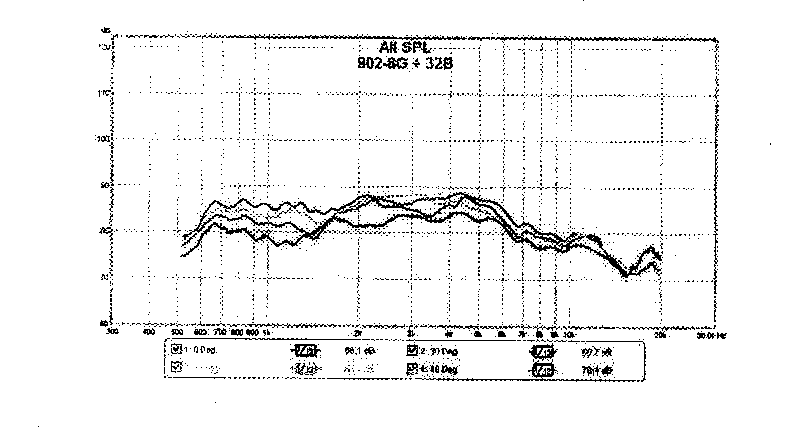 32B_902g.gif [ 9.14 KiB | Viewed 7890 times ]