Nothing earth shaking, but I've brought back to life four Dynaco pieces this fall, so far. In the past, I've been rightly vilified for destroying gear by modifying it into an unrecognizable mess: two Stereo 70s, a Pilot 232, Dyna SCA35, three of more PAS 3s, a HK Citation II, HK Citation I, Dyna PAT5 Bi-FET, three Stereo 150s come to mind immediately. I know there are more.

This started with two needs. 1) A friend came across an ST35 and PAS 3. He doesn't want them, so enlisted me to clean them up, return them to operating condition and sell them (that comes next).
2) We needed a receiver for TV, radio, maybe cellphone music in the new sunroom. Has to be easy, simple, etc. After a free HK home theater receiver turned out to be a bust, I started thinking about my stash of trash.

The FM-5 was easy, it "worked". Belonging to my deceased brother and built January of 1970, it was filthy inside and out. The "stereo" and "tuned" lamps had failed, and these are part of the mute and tuning circuits. Managed to replace them with LEDs; a resistor change kept the current at expected levels. Ten minutes of air compressor time to clean the inside, burnishing the RCA jacks to clean them up a bit, lots of Goo Gone and Alcohol cleaned it to an acceptable level. The grooves in the knobs took a half-hour of jeweler's screwdriver scraping.

The SCA80Q was a bit more of a challenge. Went Dyna went out of business, my dad, brother and I went to the Circuit City warehouse sale of all that remained of their stock. None of us had a lot of money to spend. There were a pair of MKVI amps I was drooling over. Dad bought the SCA80Q and an AF-6. These sat atop his Capehart console driving A-25 speakers from the 70s until they moved out of the house in 2000. They played EVERY day.Sometime after moving, the amp died. When dad passed away in 2009, I inherited them. The amp no longer worked, but the tuner survived.

Digging into it, the power amp was dead, phono and line sections, as well as power supply were okay. So, I pulled out the power transformer and power amp. This build had to be all off-the-shelf. The perfect toroid was on the shelf, along with an LM4780, board, heat sink and power supply board; so in they went. The input and phono stages needed 17.5 and 24 volts, so a couple of LM317s on perf board fixed that. I replaced all caps and resistors on the phono/line boards, eliminating electrolytics where possible and where they had to remain, they became Silmics or similar. As you may know from a previous post, I broke the selector switch in the process of the build. The replacement was a 2-pole 5 position switch. Since the unused inputs could no longer be shunted to ground, the input wiring had to be re-done with individual twisted pairs (Teflon insulated copper, woo-hoo). Also, the phono equalization had to be hard wired to the board. The "Special" input became a line-level input, since we have zero need for two phono inputs in the amp.

Hooked it up and it sound way better than before. I'm pleased.

As to the PAS-3 and ST35, after cleaning them up and a visual inspection, each, individually was turned on with an incandescent lamp in series, starting with 25 watts, working up to 100. Left each in position for at least 6 hours, and a couple over a day. The PAS had it's original Telefunkens and 12X4, they tested excellent, so they remained. The ST35 had broken 7247s and nasty looking outputs, so JJ Tesla ECC823s went into the input and a matched quad of Tung Sol EL84s went into the outputs.

After the current limited turn on with the lamps, I switched to a voltage limited approach using the Variac. I'm so happy to report that every cap came back to life without issue and the units performed flawlessly! Even considering my test line voltage was 124+ volts and the units were designed for 117 and 120 volts (forget which was which), measurements were damn near perfect!

Now to get the SCA80Q and FM-5 hooked up in the house, and the other two to happy new owners.

Then back to the Oddblocks!
Attachments: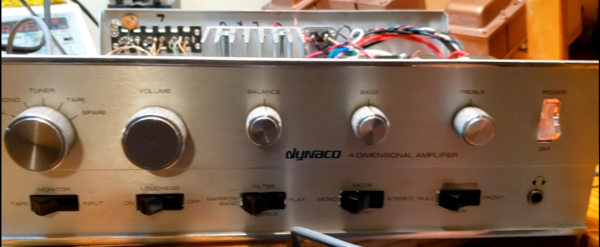 Done-front.PNG [ 1.71 MiB | Viewed 708 times ]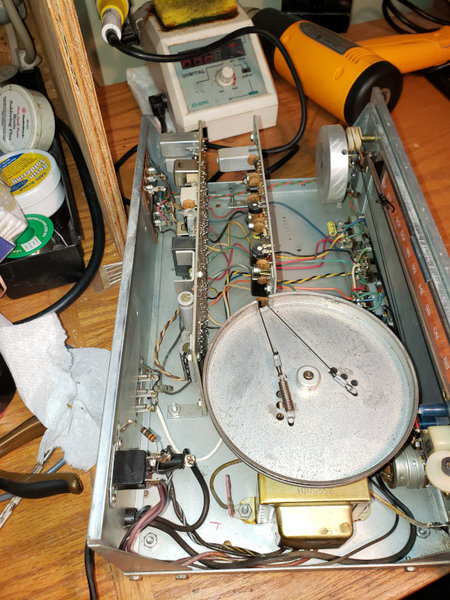 FM-5_Interior.jpg [ 663.83 KiB | Viewed 708 times ]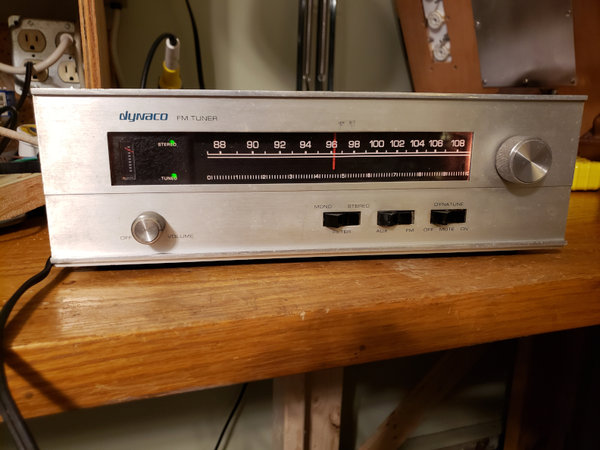 FM-5_Lights.jpg [ 468.88 KiB | Viewed 708 times ]